Table of content
I purchased my first kalimba a few days ago on sale – a Gecko 17 key (mahogany). I was super excited to get it, as I've been wanting one for a while. Unfortunately, it showed up, and 8 of the tines barely make a sound, and 4-5 of those are probably what you'd consider completely dead, just plink plink sounds, no resonance. (from Reddit).
Why Is A Kalimba Dead Tine?
Yes, Dead Tine, also known as Dull Note or Stiff Tines, usually occurs on the treble key of a 17 key carimba in C, such as 1°°, 3°°, 2°°, 7°°.
As we all know, the carimba is through the tine vibration to make sound, the longer the tine, the vibration frequency is lower, and near the hollow, so the resonance is larger. The shorter the keys, the higher the vibration frequency and further to the hollow, the lower the resonance sound. But the main reason is how the kalimba brand designed its instrument. Our kookalimba got across the issue!
How to Fix The End Tines Dead
If you're experiencing this problem, it might be worth trying out a few different things. For example, if your kalimba isn't perpendicular to the bridge, you could try wiggling it from side to side—just a teeny bit. See if that helps. Or even try skewing it off to the side; life is weird and sometimes that'll actually work, though I expect a perfectly straight tine more likely to yield success.
Part of this issue also comes from the flexibility in the faceplate of the kalimba. You could insert a spacer (such as a wooden dowel) into the sound box of the kalimba between the backplate and the faceplate, to help hold the faceplate up more rigidly. This can also help.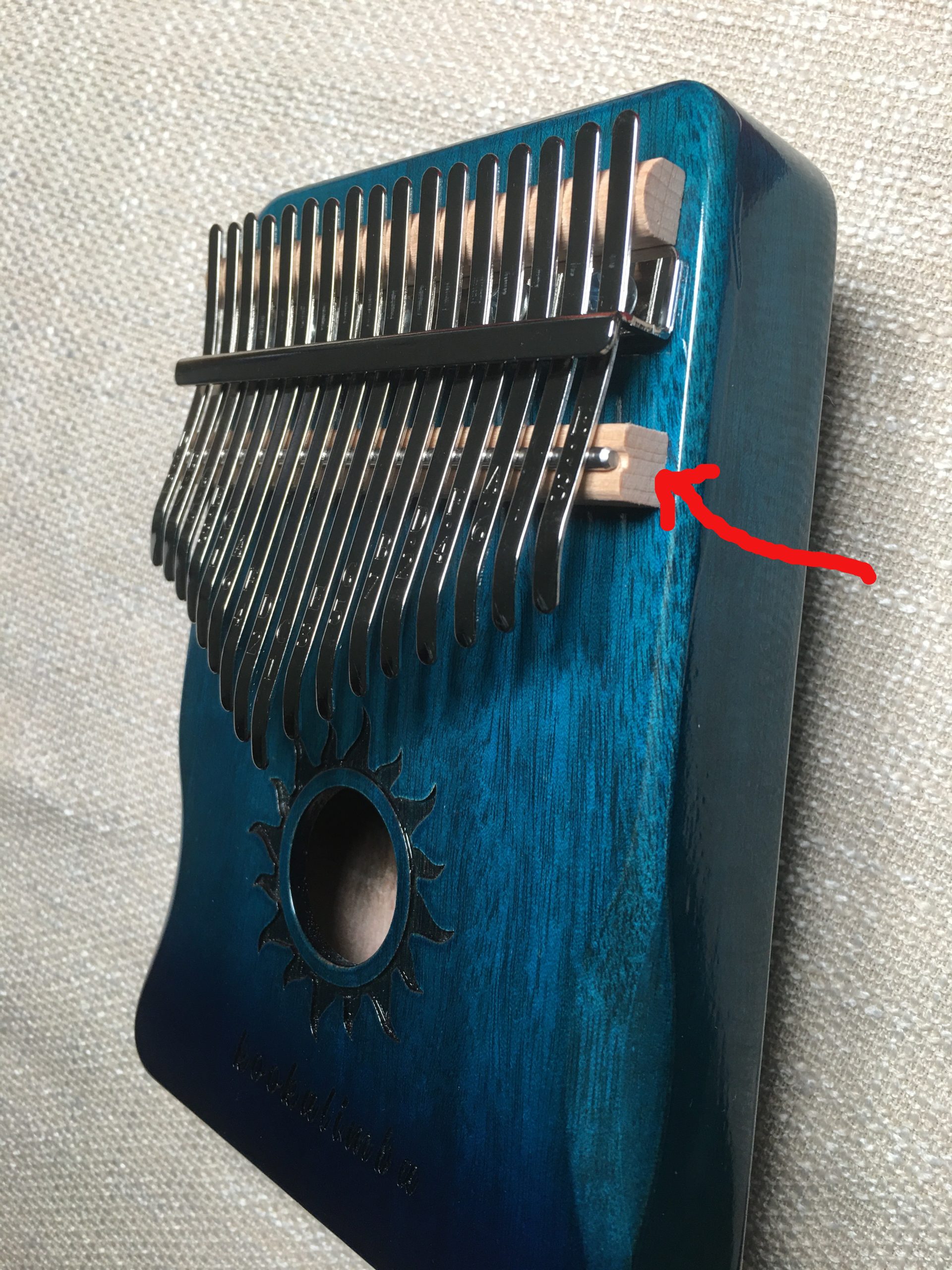 You're unlikely to be able to fix this problem entirely, just because of the nature of the hollow kalimba. The sound box seems to absorb a lot of these sounds. If you want to play songs with richer high notes, look into getting a board kalimba.
Kookalimba Got Across The Kalimba Dull Sound Issues?
Kookalimba K17M1 is absolutely fantastic and beautiful, both aesthetically and by sound. It sounds almost clean like a music box and has no rattle. The keys are enough tension on the metal bars to stay in tune. They can't easily be pushed side to side or back to front to keep the kalimba in tune, and we got across the dead tine issue. kookalimba dead sound test.


Kookalimba K17M1 Is 100% Made From Mahogany Solid Wood
Kookalimba K17M1 is 100% made from mahogany solid wood, but not composite (fake) wood. This is also the reason why our product is more expensive and heavier than other cheap kalimbas on the market. Mahogany is a beautiful wood with a warm timbre and good resonance. It's a great choice for varnish or red gradient painting, and its sound lasts long.
If you're in the market for a new instrument, you should be aware of the effects humidity can have on quality.
Humidity will affect the resonance of the wood and keys, and excessive drying will make the wood crack. A humidifier can be prepared for dry areas and some desiccant for humid areas. So if you live in dry areas, we recommend mahogany kalimba.
Kookalimba K17M1 is An Ergonomic Hand-rest Curve Design
The Kookalimba K17M1 was designed with ergonomics in mind, which means it helps you feel more comfortable while you're holding or playing the thumb piano. Its grooves make it easier to grip, and its curves are perfect for your hand.
The Color of The Kookalimba K17M1 is Fantastic
I love the color of these kookalimba K17M1! They're blue, and they don't get dirty easily. The wipe provided is pretty much good enough to clean them, but if you want to be extra thorough, you can buy a cleaning kit.
Kookalimba K17M1 is Very Easy to Tune and Learn
If you're looking for a kalimba that's easy to tune, I highly recommend Kookalimba K17M1. It arrived needing only minor adjustments.
The tines are sturdy as well and the engraved notes are accurate and legible.
If you are not a musician or even an accomplished amateur. But after the first day playing the kalimba, I can honestly say that you will never play another instrument again.
The kalimba is very easy to play and it has been around for hundreds of years. Despite many attempts at picking up other instruments, this kalimba is always the only one that stuck with you. After one week of practice, you will have learned how to play 8 songs by ear!
Kookalimba K17M1 shows